Media and Videos
Julie's New "Different" Music Video!
Julie's "POOPED!" Music Video
Amazon Reviews for Pooped!
"To be a kid again!" (5 Stars)
Pooped! is a delightful album of some of the choicest and most adorable songs collection for the little ones. The title track opens this lovely album. The use of the word "Pooped!" as a hook line is very inventive and sounds great! Garnett's voice is very melodious and soft and with a calm touch 🙂 "Counting Chil-Der-En" is a lovely composition and the lyrics are beautiful. The child's voice is utterly magical! "My School" is a song all kids will identify with…the pleasure and fun of being in a happy atmosphere at a school leave wonderful memories 🙂 "Riding In The Car" is a road-song from the perspective of a child…this is a great song! We don't really think what a child's thought process are when one takes them out for a ride, now we do 🙂 "Finger Family" is a wildly imaginative poem that at once entertains and educates a child. And then there's the old favorite "Twinkle,Twinkle" very nicely sung by children and Garnett. "Softly Slumber" is a melodious and I just loved Garnett's voice in this one 🙂 Another favorite of mine " That's Okay" is a treasure of all those growing up years memories.This album is a must for all those whose kids that need just a little nudge into la la land :-):-)
Ricky Kej
"Wonderful & Entertaining" (5 Stars)
Well, what do you do when you're pooped? Really simple solutions and all the answers are right here in the title track 'Pooped!' I love the kind of unadulterated sound this record has; it's all so clear and effective. There's some neat singing in rounds on 'Brother Jacques' and there's superb vocals and harmony right through the record. 'Riding in the car' has some nifty guitar too, 'Sweetest of dreams' is the perfect lullaby, but the acapella voices on 'Hush little baby' is a spark of genius!
Dominic D'Cruz
PRINT AND AWARDS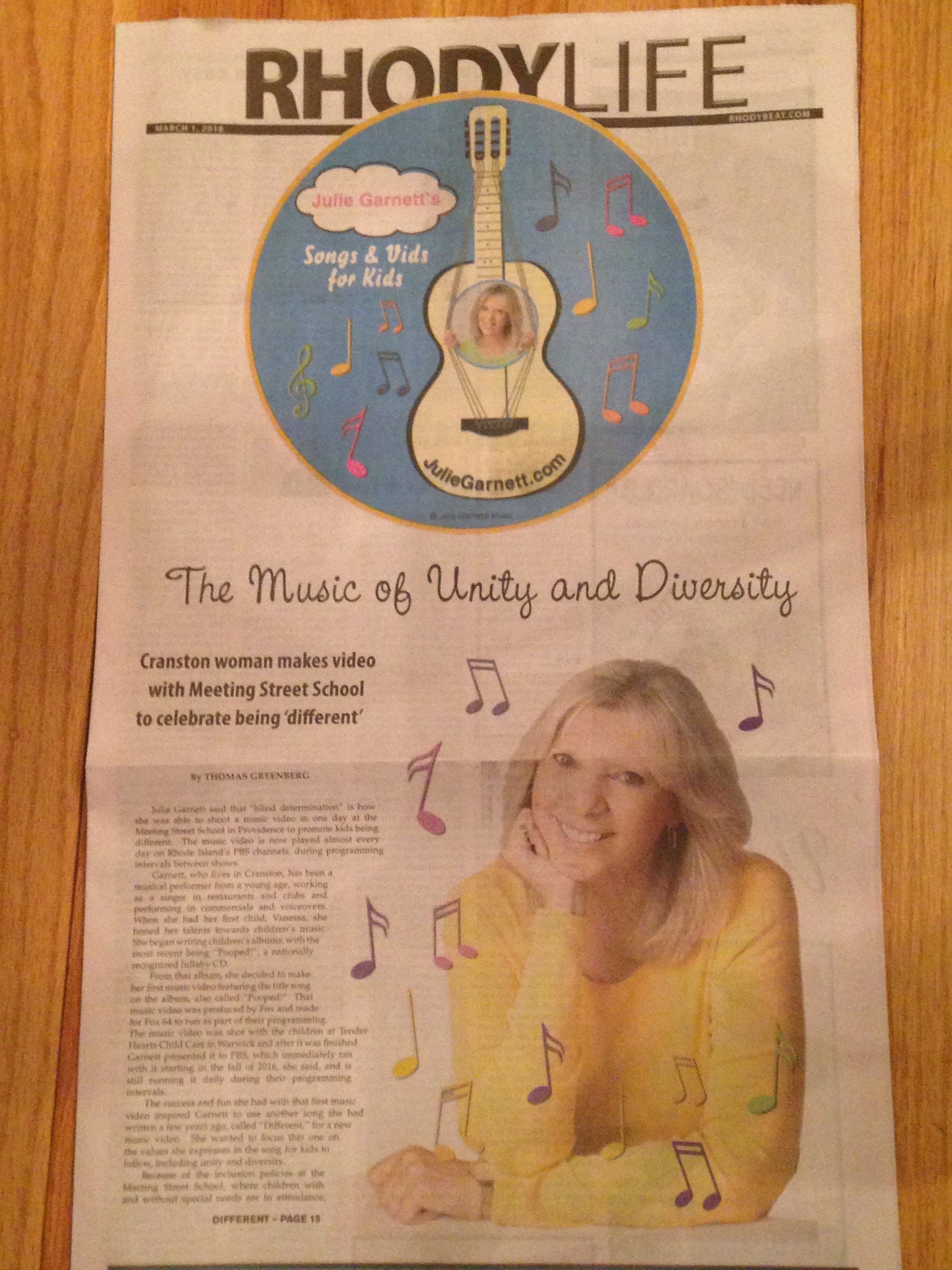 FILMING JULIE'S NEW VIDEO, DIFFERENT